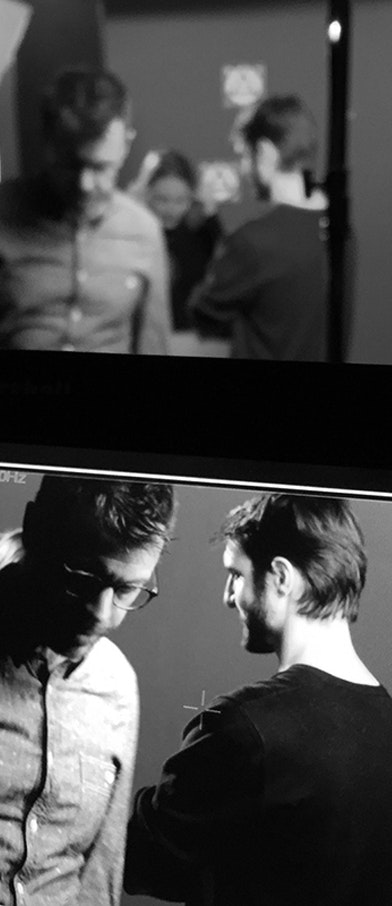 Hi there !

We're Alex & Antoine, a duo of French directors proposing new visual and narrative possibilities for digital media and television.
Alex comes from advertising. He has worked as 3D and stop-motion supervisor for the past 15 years (e.g. ad campaigns for Guerlain "La Petite Robe Noire" since 2012 ; member of the team who designed the title credits of "Catch Me If You Can"). Antoine comes from a film and video clip background, where he has worked as a Film Director and Director of Photography for the last 10 years.
Our signature ? "Craftmade" animation !
We fuse different types of animation techniques in our own way : live action, stop-motion and 3D. Our goal is to invite the spectator to discover a memorable universe, filled with poetry and the unexpected.
Salut,
Nous sommes Alex & Antoine, un duo de réalisateurs français proposant de nouvelles approches visuelles et narratives pour le digital et la télévision.
Alex vient de la publicité en tant que superviseur dans l'animation 3D et la stop-motion depuis plus de 15 ans (campagnes publicitaires pour Guerlain « La Petite Robe Noire » depuis 2012 ; générique de « Catch Me If You Can »). Antoine est issu du cinéma et du clip vidéo, où il a travaillé comme réalisateur et directeur de la photographie ces 10 dernières années.
Notre signature ? L'animation « craftmade » !
Nous mixons différents types de techniques d'animation à notre manière : live action, stop-motion et 3D. Nous avons pour ambition d'inviter le spectateur à découvrir un univers mémorable, rempli de poésie et d'inattendu.